SciGirls is back on PBS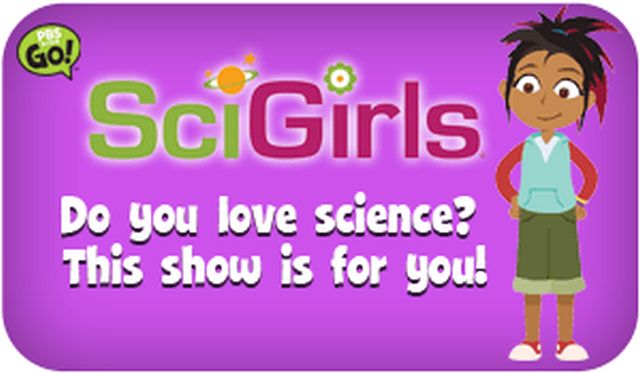 Do you want to be a leader in science, technology, engineering, and math (STEM) when you grow up, or simply explore your world? Whatever your dream is SciGirls' new Spanish/English episodes welcomes everyone to the Fiesta de la Ciencia!
A brand new season of SciGirls, inspiring curious kids to explore science, technology, engineering, and math, or STEM, debuted February 1.
This season's creative girls—not actors—team up with adult female science professionals to solve STEM challenges, improve their communities and make new friends.
"Our research underscores that girls must see STEM role models who mirror their heritage and experiences," said  SciGirls' director of cultural competency, Alicia Santiago.  "In partnership with Hispanic educators, parents and community leaders, SciGirls selected exceptional Hispanic female STEM professionals to inspire and empower this season's girls—in a language and style that feels uniquely theirs."
Hailing from all over the United States, the real-life SciGirls and their mentors tackle adventures in Spanish and English, honoring their Mexican, Puerto Rican, Dominican, Guatemalan, Argentinian, Colombian, Ecuadoran and Salvadoran heritage. Subtitles for both languages are provided, making sure all viewers can join in the STEM learning.
The bilingual STEM superstars code dance costumes in New York, engineer an urban chicken coop in Colorado, design NASA-inspired water bottles in Texas, explore tree ecology in Puerto Rico, engineer a streamlined process for an Arizona food bank or create a fitness boot camp to promote community health in California.  SciGirls' character Izzie is also back, sharing her Hispanic family's customs, goals, and adventures.
In addition to these episodes, the SciGirls educational outreach team is partnering with Hispanic-facing youth organizations nationwide to deliver standards-based bilingual STEM programming to children, families, and educators.
"SciGirls has spent over a decade addressing a challenging reality: girls face greater obstacles to STEM success than their male peers," said SciGirls episode director Maria Agui Carter. "These barriers are even greater for young Hispanic girls. SciGirls fourth season, with its Spanish-first, culturally responsive approach, is nothing short of groundbreaking."
SciGirls is produced by Twin Cities PBS and is made possible by major funding from the National Science Foundation. Additional support is provided by Northrop Grumman, PPG Foundation, The Cargill Foundation and the Donaldson Foundation.
The six new episodes celebrate the language and culture of the youngest racial/ethnic group in the United States: Hispanics! The brand-new season of the Emmy-winning show debuts on PBS KIDS (check local listings) and online at PBSSciGirls
Watch SciGirls on pbskids.org, follow SciGirls on Facebook and @SciGirls on Twitter.
Please follow and like us: