Latino enrollment reaches 25.7 percent at UC, Irvine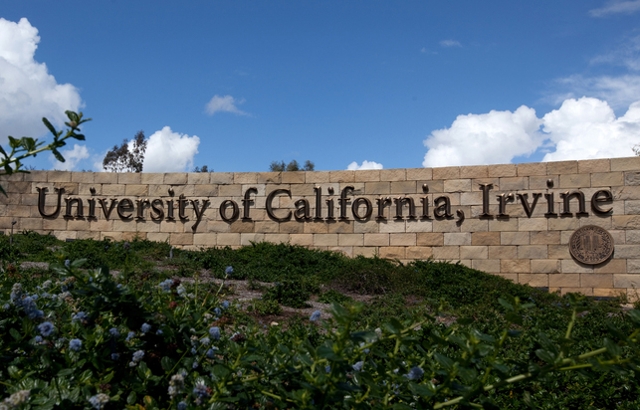 The U.S. Department of Education has named the University of California, Irvine a Hispanic-serving institution for 2017-18.
UCI's current Hispanic enrollment is 25.7 percent, double what it was a decade ago, and the campus received more Chicano/Latino freshman applications for the 2017-18 academic year (23,463) than any other UC school.
The designation builds on UCI's recognition earlier this year as an Asian American and Native American Pacific Islander-serving institution, demonstrating the university's dedication to providing a world-class education to every qualified student.
Hispanic-serving institutions and Asian American and Native American Pacific Islander-serving institutions are part of a federal program to help universities support first-generation and low-income students.
They increase UCI's eligibility for funding and grants from the departments of Education, Agriculture and Housing & Urban Development that can be used for a variety of purposes: to boost financial aid and other student services, to purchase scientific and laboratory equipment, for faculty development and to improve classrooms.
"This milestone validates our commitment to diversity and aligns with our aspiration to be a national leader and global model of inclusive excellence," said UCI Chancellor Howard Gillman. "This program enables UCI to serve as an engine of social mobility for all Californians and empowers us to create a more brilliant future for everyone in the state."
UCI is only the second member of the prestigious Association of American Universities – which includes the country's leading research institutions – to have HSI status. The New York Times in 2015 ranked UCI the No. 1 school in the nation for doing the most for low-income undergraduates.
"Latino students represent some of California's most talented and promising high school graduates, chiefly from Los Angeles, Orange and San Diego counties," said Douglas Haynes, UCI vice provost for academic equity, diversity and inclusion. "This impressive growth signifies the aspirations, dedication and achievement of Latino students, families and communities. We are a Hispanic-thriving institution, first and foremost."
Besides the Hispanic portion, UCI's student population is 38.6 percent Asian, 14.1 percent Caucasian and 2.9 percent African American. Half of all undergraduates are the first in their families to attend college.
"As a public institution, our undergraduates reflect the community," Haynes said. "When you see UCI, you see California as it is today."
On campus, UCI invests in Hispanic student success through scholarships, internships, mentorships and leadership development via programs such as SAGE Scholars. And with its world-renowned faculty, the Department of Chicano/Latino Studies provides undergraduates with chances to examine the historical and contemporary experiences of Americans of Latin American origin.
UCI also offers numerous access, support, and enrichment programs for Hispanic students and is home to more than 25 Latino student organizations, ranging from Ballet Folklorico to the Society for the Advancement of Chicanos & Native Americans in Science.
Please follow and like us: