Hispanic Heritage Month Education Wrap-Up 2017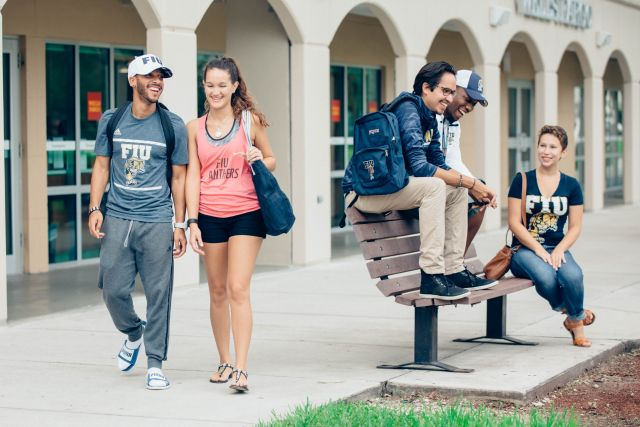 For more than three decades, Hispanic Engineer magazine has recognized the contributions of Hispanic and Latino professionals in science, technology, engineering, and math (STEM).

During Hispanic Heritage Month (September 15 to October 15), HE Online brought you diverse stories of Hispanics in transportation, healthcare, agriculture, retail banking, manufacturing, and digitization. In this wrapup, we look at major education stories in 2017.
Florida International University (FIU) is one of the top schools with a high percentage of Hispanic students.  According to a recent U.S. News report, FIU is not only doing better at enrolling minority groups, it's also graduating more Latino degree-seeking undergrads.
Other schools that made the 2016 "Colleges With the Most Hispanic Students" list include Mount Saint Mary's University in California, University of the Incarnate Word in Texas, California State University – Los Angeles, Sul Ross State University, St Mary's University of Antonio, Texas A&M – Kingsville, Our Lady of the Lake University, Texas, University of Texas-El Paso, Texas A&M International University. The percentage of students at these schools range from 59 to 94 percent.
This June, the U.S. Department of Education named the University of California, Irvine (UCI) a Hispanic-serving institution for 2017-18.
UCI's current Hispanic enrollment is 25.7 percent, double what it was a decade ago, and the campus received more Chicano/Latino freshman applications for the 2017-18 academic year (23,463) than any other UC school.
Hispanic-serving institutions are part of a federal program to help universities support first-generation and low-income students.
On the heels of the education department announcement on UCI came equally good news from Pew Research.
The Pew report said a record 3.6 million Hispanics were enrolled in public and private colleges in the U.S. in 2016, up 180 percent from the 1.3 million who were enrolled in 1999.
The increase in Hispanic college enrollment outpaced Hispanic enrollment growth in U.S. nursery and K-12 schools during the same span, Pew said in a blog post "Hispanic dropout rate hits new low, college enrollment at new high"
The Hispanic dropout rate was 10% in 2016, with about 648,000 Hispanics ages 18 to 24 – out of more than 6.5 million nationally in that age group – not completing high school and not enrolled in school. Just five years earlier, the rate had been 16%.
Since 1999, the earliest year for which data on all major races and ethnicity are available, the dropout rate among Hispanics has fallen by 24 percentage points, compared with 9 points among blacks, 3 points among whites and 2 points among Asians. Hispanics, however, still have the highest dropout rate of these four groups, Pew said.
However, a study from the Georgetown University Center on Education and the Workforce painted a less rosy picture.
Latinos are stalling in the middle tiers of the higher education system and, as a result, are caught in the middle-wage tier of the labor market, says the study from the Georgetown Center.
The study claims that earning college degrees remains a challenge for Latinos, finding only 21 percent of Latinos have bachelor's degrees compared to 32 percent of blacks and 45 percent of whites.
"The story of Latino families in America honors an intergenerational striving to achieve full inclusion in our society, and it is their turn," said Anthony P. Carnevale, director of the Georgetown Center and lead author of the report. "With access to the right college and career guidance, Latinos can keep running faster toward a promising future that awaits."
While Latinos are running faster in the education race, the researchers found that they are falling farther behind whites and blacks in many crucial college outcomes: 65 percent of Latino students enroll in overcrowded and underfunded community colleges with low graduation rates, while only 15 percent enroll in one of the 500 most selective colleges that have much higher graduation rates.
Even when Latinos obtain college degrees, the report said, they are less likely to work in college jobs. Latinos hold a mere 10 percent of jobs that require at least some post-secondary education, and they hold only 9 percent of jobs which require a bachelor's degree, and 7 percent of jobs requiring a graduate degree.
The researchers found that in general, Latinos have the lowest earnings compared to whites and blacks. However, when Latinos obtain at least some post-secondary education they have higher earnings than blacks but are still behind whites.
Among major demographic groups,  Latina women need to earn two additional degrees in order to have similar median earnings to white men and are generally the lowest earning group in America. However, Latina women with bachelor's degrees outearn black women.
The good news is that Latino high school graduation rates have improved the most since the 1990s, the study said.
Latino first-time enrollees at two- and four-year colleges and universities have increased—by almost 250,000 students—while white enrollment has actually decreased. Latinos also have the highest completion rates in certificate programs (60 percent), compared to 47 percent for whites and 37 percent for blacks.
 For Latinos with at least a bachelor's degree employed in high-wage occupations like those related to science, technology, mathematics, and engineering (STEM), race-based earnings gaps essentially vanish. Both whites and Latinos with either a bachelor's or graduate degree who work in STEM careers earn $85,000 on average.
"Latino students often start at a disadvantage—many of their parents haven't gone to college," said Megan L. Fasules, co-author and research economist at the Georgetown Center. "These students may also have difficulty navigating the financial aid process, so it's imperative that we close the information gap."
Other key findings include:
Latina women have higher completion rates compared to Latino men at every level of post-secondary education.
While Latinos with high SAT/ACT test scores have similar rates of college enrollment as whites, 63 percent of these Latinos complete a degree or other credential compared to 78 percent of whites with similar test scores.
Only 34 percent of foreign-born Latinos have some form of post-secondary education compared to 61 percent of native-born Latinos.
Latinos who speak only English earn $41,000 annually on average, which is lower than whites' earnings ($50,000) but higher than blacks' earnings ($38,000).
The full report, Latino Education, and Economic Progress: Running Faster but Still Behind, is available online at cew.georgetown.edu/LatinosWorkforce.
Between 1999 and 2016, the number of Hispanics enrolled in public and private nursery schools, K-12 schools and colleges increased 80%, from 9.9 million to 17.9 million.
By comparison, enrollment during the same period increased 30% among Asians (from 3.6 million to 4.7 million) and 4% among blacks (from 11.3 million to 11.7 million) while falling 14% among whites (from 47.3 million to 40.6 million). Total public school enrollment grew 7%, from 72.4 million to 77.2 million.
Please follow and like us: