GE encourages girls to explore the world of STEM and STEM-based careers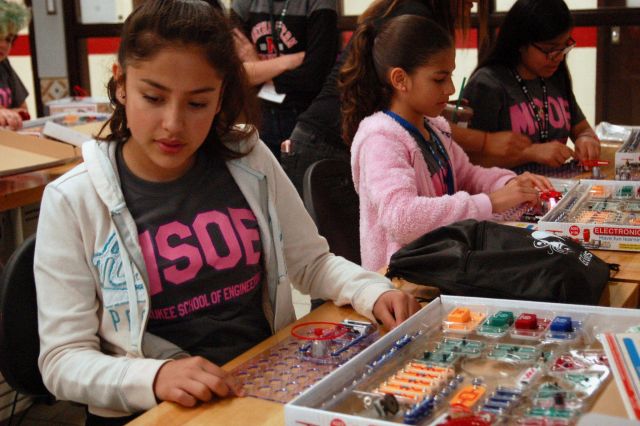 Leslie Villanueva and Natalie Perez Rivera, students at Hayes Bilingual School, build "Snap Circuits." at the 2017 GE Girls program. (Photo by Hailey Richards, Milwaukee Neighborhood News Service)
Leslie and Natalie are two out of a total of 36 girls, invited to participate in the five-day GE Girls program, which ran through June 19. Featuring classes, mentorship and team-building activities, GE Girls is an annual summer program intended to foster and develop middle school girls' interest in STEM.
GE Girls is sponsored by General Electric and is a program designed to encourage girls to explore the world of science, technology, engineering and math (STEM), and STEM-based careers.
The program began in 2011 with one program at MIT and has since grown to over nine programs, with more to come. In addition to the in-person programs, GE Girls launched the GE Girls Club in 2016 as a way to keep the conversation going about STEM.
Since its inception, GE Girls has reached hundreds of girls who will continue to explore STEM and engage with the program throughout their high school years.
Check out where GE businesses are currently hosting programs across the United States:
GE Girls at Rensselaer Polytechnic Institute
Troy, New York
GE Girls at MIT
Lynn, Massachusetts
GE Girls at Penn State
Erie, Pennsylvania
GE Girls at Notre Dame
Notre Dame, Indiana
GE Girls at Georgia Tech
Atlanta, Georgia
GE Girls at Milwaukee School of Engineering
Waukesha, Wisconsin
GE Girls at University of Connecticut
Stamford, Connecticut
GE Girls at Clemson University
Greenville, South Carolina
GE Girls at Florida Tech
Melbourne, Florida
GE Girls at Mills College
Oakland, California
GE Girls at University of Washington
Seattle, Washington
If a program is not available to you, check out the GE Girls Club to get great STEM content and updates.
Want more information? Contact us!
Please follow and like us: