Viviana Vila Joins Coverage as First-Ever Female Analyst to Call FIFA Men's Cup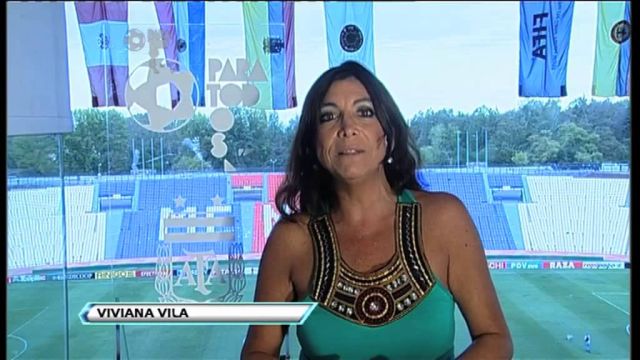 For the first time, Telemundo Deportes will introduce a woman to provide in-match commentary for a FIFA Men's World Cup. Argentine sports journalist Viviana Vila has been covering soccer since 1999 for Radio Continental de Buenos Aires.
She debuted as an analyst in 2004 alongside legendary sportscaster, Victor Hugo Morales, and has since provided commentary for close to one thousand matches, including tournaments like Copa Argentina, Copa Libertadores, and the 2016 UEFA European Championship.
To kick off the 100-day countdown to the 2018 FIFA World Cup Russia™, Telemundo Deportes revealed a series of key updates for its coverage plans as the exclusive Spanish-language home of the largest sporting event in the world.
"We are kicking off the 100-day countdown in a big way to celebrate this historic moment for Telemundo Deportes," said Ray Warren, president of Telemundo Deportes.

"This will be the most consumed and most widely distributed digital event in Spanish-language television history. All of the initiatives support our mission to bring our viewers the most authentic and complete coverage in the history of the tournament."
As an official FIFA partner, Coca-Cola will be the presenting sponsor of the Telemundo Deportes Post-Game, "El Resumen del Partido," for all 64 World Cup matches as well as the in-game match clocks.
Sprint will work with Telemundo Deportes as the official halftime sponsor of all 64 matches. Additionally, Sprint will offer their customers an exclusive portal in the Telemundo Deportes En Vivo app, inclusive of FIFA content.
Volkswagen will bring audiences action, highlights and commentary from the tournament as presenting sponsor of the network's primetime show.
Partnership with VICE
As part of Telemundo's plans to create storytelling around the tournament, the network is partnering with VICE, the world's leading global youth media brand, to produce features and stories on the culture and fandom that the FIFA World Cup™ brings around the world.
"Somos El Mundial" 
As part of Telemundo's more than 1,000 hours of FIFA World Cup™ content, Telemundo Deportes announced a content partnership with NBCU Digital Lab to create "Somos el Mundial," a digital docu-series.
"Somos el Mundial" is an intimate profile chronicling the narratives behind the Hispanic World Cup countries as told through the eyes of key players.
Telemundo and COPA90 
Telemundo recently announced an exclusive partnership with the global soccer media company Copa90 to create the first-ever Hispanic content creator network focused on soccer. The first stage of the campaign kicked off in early February.
The Telemundo Station Group – made up of sports, news anchors and producers, representing U.S. Hispanic constituencies – will round-out Telemundo Deportes' coverage of the World Cup.
Other additions to the team include iconic soccer personalities Tab Ramos, Diego Forlán, Jesús "Chucho" Ramírez,  and Teófilo Cubillas.
La Ola FIFA
In an exclusive partnership with Horowitz Research, Telemundo unveiled the first phase of findings from the most in-depth consumer research initiative to ever be conducted around the FIFA World Cup™ in the U.S., focused on fandom, culture, technology and brand building.
Findings from the first phase of insights show that:
9 out of 10 Hispanic soccer fans plan to watch the FIFA World Cup™ from beginning to end.
Most (77%) Hispanic soccer fans plan to watch World Cup matches live on television, but when they can't catch the matches live, 46% say they will live stream matches and 31% will stream matches on demand, setting up 2018's World Cup to be the most cross-platform in history.
1 in 4 non-Hispanics say they plan to watch the World Cup exclusively or mostly on Telemundo
Hispanics rank seeing their country win the World Cup second only to holding their child for the first time. It even out-ranks winning a new car or getting a promotion at work in terms of exciting life events.
Hispanic millennials are leading a shift towards soccer in America's sports culture, with 2 in 3 Hispanic millennials saying they are soccer fans.
61% of Hispanic millennial males would risk getting in trouble at work to stay home to watch an important World Cup match.
68% would rather give up all of the rest of the content on TV than give up soccer.
52% would rather spend the day hanging out with their favorite soccer team than with their own family.
More than 80% of Hispanic soccer fans turn the World Cup into a viewing party or virtual co-viewing.
For close to 80% of Latinos, the tournament will take over the social conversation as they follow memes, comments, and arguments about a match through social media, or post themselves.
Please follow and like us: