UTEP Celebrates 2017 Winter Commencement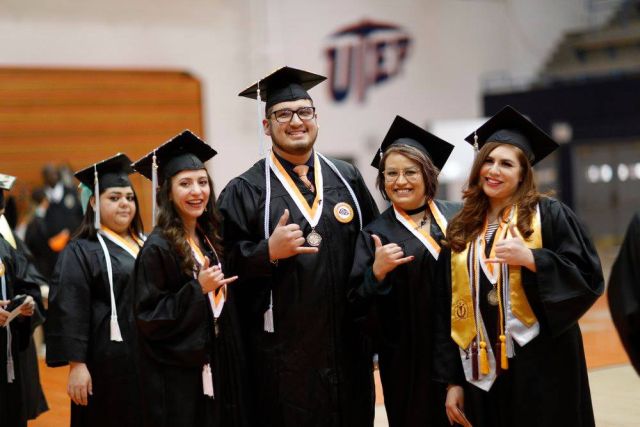 More than 700 graduates and fall candidates from the colleges of Engineering, Health Sciences and Science were celebrated at the UTEP Commencement ceremony. 

The ceremony was the last of The University of Texas at El Paso's three Commencement ceremonies that honored more than 2,300 graduates on Dec. 16, 2017.  Over 20,000 graduates, family members, and friends celebrated at the Don Haskins Center throughout the day.
As UTEP offensive lineman Will Hernandez emerged onto the Don Haskins Center floor from the tunnel, he peeked up into the stands, hoping to catch a glimpse of his uncle Daniel Limas and his sister Katherine Hernandez. They dropped off the Las Vegas, Nevada, native his first day at UTEP five years ago.
"Now they're going to be here for my last day also," said Hernandez, who graduated with a bachelor's degree in kinesiology. "They've been here literally since day one."
Hernandez, who was named to the All-Conference USA first team in early December, credits his kinesiology education with helping his football career. After graduation, he will be training for the NFL draft in April.
"Kinesiology has everything to do with your body, how it works physiologically and mechanically, so all that's applied to football," said Hernandez, who also has received Associated Press, CBS Sports and FOX Sports All-American honors. "Everything I learned in the classroom regarding my degree, I used on the field, I used on my own body, and it helped me to become a better football player."
Like Hernandez, Ximena Jauregui also is looking forward to starting the next chapter in her life this coming spring. Jauregui, who earned a bachelor's degree in civil engineering, will start UTEP's graduate program in civil engineering in January 2018.
"I feel like I'll be less stressed at least for a month," said Jauregui, who worked as a web developer for UTEP's Extended University since her freshman year. "I feel great satisfaction for all the work I've been doing for the past five years."
In typical fashion for UTEP civil engineering graduates, Jauregui and her classmate Denise Garcia donned orange hard hats instead of the traditional mortarboards.
"This is like celebrating our entry into the real world," a beaming Jauregui said, pointing to her head. "They give it to us as a recognition because this is something that civil engineers wear."
Soon after graduates took their seats on the Don Haskins' floor, UTEP President Diana Natalicio recognized Professor of Geological Sciences Diane Doser, Ph.D., who served as the ceremony's Grand Marshal.
During her 31 years at UTEP, Doser, who is the director of UTEP's Kidd Memorial Seismic Observatory, has been repeatedly recognized for her outstanding teaching and contributions to global society. In 2010, she received The University of Texas System Board of Regents' Outstanding Teaching Award, and in 2016, she was presented with the Distinguished Service Award from the Seismological Society of America.
In President Natalicio's final remarks to the class of 2017, she urged graduates to make the most of their UTEP education out in the real world.
"Here each of you has developed your special talents and abilities," President Natalicio said. "Go out from this Commencement — this beginning — and use what you have learned here to the fullest.
President Natalicio told the graduates that she was proud of all their accomplishments and inspired by the role UTEP played to unlock their potential. She shared her comments behind a lectern in the middle of a wide stage decorated by poinsettias and green plants. She was backed by UTEP leaders on either side of her.
"You set high aspirations for yourselves, persevered and worked hard to develop your talents and achieve your goals," she said. "(You have) greatly increased the probability that the success you celebrate this afternoon will serve as a springboard for other big dreams that you'll achieve in the future, much as you did this one."
Please follow and like us: