Richard Cavazos, legendary U.S. Army general, dies at 88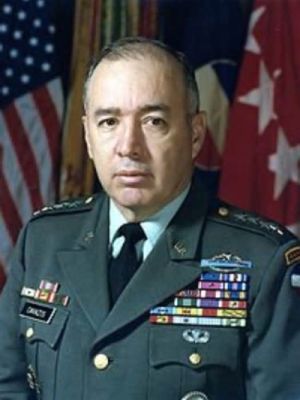 Vietnam veteran and Army four-star general Richard Edward Cavazos, 88, has passed away. He is survived by his wife, Caroline, William Fee told Alexandria Rodriguez of the Corpus Christi Caller-Times.
Fee, who served under Cavazos in combat as a rifleman with the First Infantry Division, added, "We were all 19 and 20 years old, he was 38 at the time. He was a father figure to us. We looked up to him and we respected him."
Cavazos was born January 31, 1929, in Kingsville, Texas. He graduated from the North Texas Agricultural College (now the University of Texas at Arlington) ROTC program in 1949.  He then earned a bachelor's degree in geology from Texas Technological College (now Texas Tech University) in 1951, where he played on the football team and was a distinguished graduate of the ROTC program.
He received further military education at the U.S. Army Command and Staff College, the British Army Staff College, the Armed Forces Staff College, and the U.S. Army War College. He received basic officer training at Fort Benning, Georgia, followed by training at Airborne School. He then deployed to Korea with the 65th Infantry.
A Korean War recipient of the Distinguished Service Cross as a first lieutenant, Cavazos was awarded a second Distinguished Service Cross as a lieutenant colonel during the Vietnam War.
In 1976, Cavazos became the first Mexican American to reach the rank of brigadier general in the U.S. Army. In 1980, he became commander of III Corps — and is recognized for his leadership.
In 1982, Cavazos again made military history by being appointed the Army's first Hispanic four-star general. The same year, Cavazos assumed command of the U.S. Army Forces Command (FORSCOM). His early support for the National Training Center and his involvement in the development of the Battle Command Training Program enormously influenced the warfighting capabilities of the U.S. Army.
On June 17, 1984, after thirty-three years of distinguished service, General Cavazos retired from the U.S. Army. In 1985, General Cavazos was appointed to the Chemical Warfare Review Committee by President Reagan. Cavazos served on the Board of Regents of his alma mater, Texas Tech University.
General Cavazos e is the brother of Lauro Cavazos, former Texas Tech University President and former U.S. Secretary of Education.
The infantrymen General Cavazos led in Vietnam have been close to him ever since they got back from Vietnam, the  Corpus Christi Caller-Times reported.
Please follow and like us: