HACEMOS: 'STEM to the Future/STEM para el Futuro'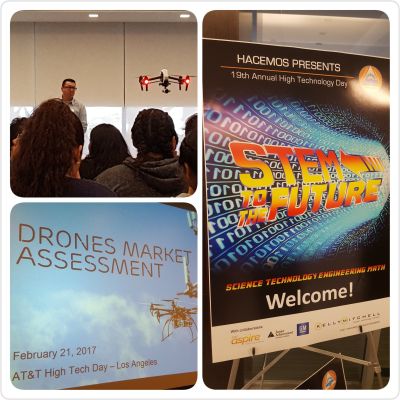 More than 3,000 high school students came together in 35 different cities across America for the 19th Annual National High Technology Day.
Hosted by  AT&T Employee Resource Group HACEMOS, the event offered students a look at the possibilities in education and careers in science, technology, engineering and math (STEM).
In addition to the events in the USA, there were also 2 events in Mexico. The day included discussion, mentoring, tours of AT&T tech facilities and workshops.
HACEMOS joined forces with Hispanics Inspiring Students' Performance and Achievement (HISPA), technical staffing firm Kelly Mitchell, and AT&T Aspire to give students hands-on experiences that offer a glimpse into the opportunities STEM offers.
Students also learned about Connected Cars and tour AT&T Labs locations.
AT&T Labs employs 1,300 scientists and engineers who are bringing the next wave of big ideas in STEM from idea to reality.
"The hardest part of entering a career in STEM is identifying your options," shared Emely Villeda-Principe, a recipient of the HACEMOS scholarship and 2015 High Tech Day Volunteer. "Everyone always told me I was good at math and science so I should be a doctor. I wasn't interested in medicine. I'm glad I kept looking for other opportunities. I found something that was right for me. That's why it is so important for students to explore their interests."
According to a 2015 report by Excelencia in Education, the number of Latinos in STEM has increased over the years. But, Latinos still make up a very small percentage of STEM professionals.
"We are committed to improving the quality of life in Hispanic communities. This includes bridging the gap when it comes to education and access," says Cinthya Allen, national president, HACEMOS.
More than 22,000 students have taken part in the event since the first National High Tech Day in 1998.
"Our theme this year is 'STEM to the Future/STEM para el Futuro.' We strongly believe educating our youth now will help them plan for their future," says Dawn Cordero, associate director, Global Command Operations, AT&T and 2017 National High Tech Day Director. "Exposure will help them understand the benefit of finishing high school and pursuing a career in technology."
HACEMOS is a leading Latino employee group at AT&T. The ERG first launched in 1998 in San Antonio, Texas. HACEMOS currently has more than 11,000 employee members in the U.S.
Follow @ATTLatino and use #ATTHighTechDay to join the conversation.
Please follow and like us: