For Denise Hernandez, early math skills go a really long way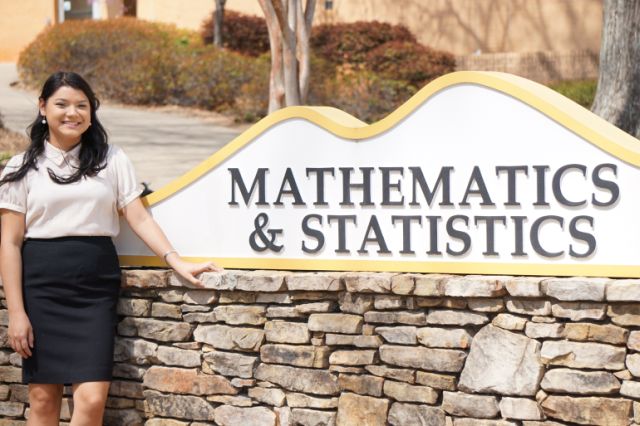 Denise Hernandez, a student at Kennesaw State University, is using her background in mathematics to imprint new approaches to connections within networks.
A National Science Foundation (NSF) scholar, Hernandez has been exploring theoretical work with the Fibonacci number of the chorded cycle graph and finding the number of independent sets on the cycle graph.
Her original work is a first for the fields of combinatorics and graph theory. It has been presented at several professional conferences, including the Mathematical Association of America (MAA) in Birmingham, Alabama, and the STEM Innovators Conference in Savannah, Georgia.
"It's great knowing that I am contributing work and theoretical formulas that have not yet been introduced to the mathematical community," Hernandez said. "Graph theory is very visual, and I'm a visual learner. If I can see something, it's usually easy for me to understand and easier to explain to people. Being able to look at the number of sets has always made things clearer for me."
A first-generation college student, Hernandez had a fondness for math applications at an early age, she explained.
"I've been interested in math since the 8th grade. I was good at it, so I continued to pursue it over the years. With math, I love that there is always a solution. With English, opinions always varied, but with math there was always an exact answer."
Hernandez has received great support from Dr. Joe DeMaio, a mathematics professor at Kennesaw State and her research adviser.
Please follow and like us: