"Despacito" – Most Recognized Digital Publication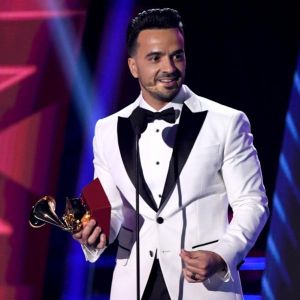 Luis Fonsi and his "Despacito" have revolutionized music. Here are some achievements compiled by Universal Musica dot com
After the nomination of "Despacito"in the 60th annual Grammy Awards in three categories: "Recording of the Year", "Song of the Year" and "Best Pop Performance Duo / Group," the song was recognized as one of the best of 2017 for the most recognized digital publications and platforms in the world.
The track and remix were officially certified diamond by the Recording Industry Association of America, which translates to 10 million or more sales and streams in the United States. This accomplishment makes "Despacito" one of only 18 songs to achieve diamond status, and the first Latin song to ever do so.
"Despacito" leads the list of most watched videos in 2017 of YouTube and the most watched video in the history of the platform with more than 4 billion views.
In the United States, "Despacito" occupied the most important billboard lists including:
# 1 Billboard Digital songs sales (17 weeks)
# 1 Billboard Streaming songs (16 weeks)
# 1 on Spotify Global for more than three months (April 21 – July 31, 2017).
# 1 on iTunes in more than 98 territories.
Luis Fonsi has been recognized with the following awards: 4 Latin Grammy® (USA), 2 American Music Awards (USA), 2 Teen Choice Awards (USA), 2 prizes 40 (Spain), 2 Youth Prizes (USA), 1 Telehit Award (Mexico), 1 Special Trailblazer award ( 2017 Hispanic Heritage), 1 GQ Man of the Year: Music (Portugal), among others.
Fonsi is the third Latin artist in history to position two singles in Spanish in the Top 50 of the HOT 100 list of Billboard; at the same time that it occupies two of the three first positions in the list Hot Latin Songs of Billboard with "Despacito" and "Échame La Culpa."
Please follow and like us: