Department of Energy promotes Native representation in STEM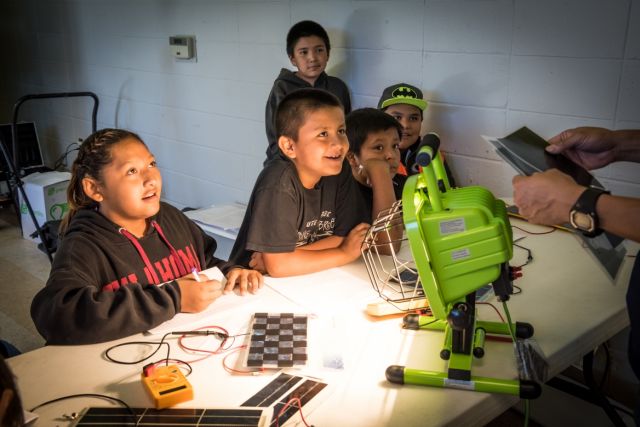 Representatives from Department of Energy (DOE) offices and national laboratories are attending the American Indian Science and Engineering Society 2017 Conference in Denver, CO, Sept. 21–23, reports Sandra Begay in a DOE post.
Sandra Begay is a principal member of the technical staff at Sandia National Laboratories and a former Regent (trustee) for the University of New Mexico. She leads Sandia's efforts to assist Native American tribes with their renewable energy developments.
Begay received a Bachelor of Science – Civil Engineering from the University of New Mexico.
The three-day event focuses on educational, professional, and workforce development for American Indians, Alaska Natives, Native Hawaiians, Pacific Islanders, First Nations, and other indigenous peoples of North America.
As part of this year's event, DOE has joined the American Indian Science and Engineering Society (AISES) in its campaign to #PledgeNativesInSTEM, an effort to raise awareness and facilitate dialogue around the importance of science, technology, engineering, and mathematics (STEM) studies and careers in Indian Country.
"The DOE Office of Indian Energy is proud to support the #PledgeNativesInSTEM campaign by continuing to provide targeted outreach to tribes and Native youth; a robust online energy resource library; and a college student internship program that offers Native students the opportunity to be immersed in energy project planning and development activities with experts in the field and at DOE's national laboratories," a statement said. "Investing in the future of Native communities through education and capacity building is part of our mission, and we are pleased to partner with AISES to increase Native representation in STEM studies and careers."
Since 2002, 38 undergraduate and graduate interns participated in the Office of Indian Energy's college student internship program, representing 21 different tribal affiliations and 19 different majors.
During the AISES 2017 National Conference this week at the Colorado Convention Center in Denver, representatives from DOE offices and national laboratories will lead several sessions.
Highlights include:
Want to Save the Planet? Learn about Indian Energy Planning, Projects, and Protégés
Saturday, Sept. 23, 9:30–10:20 a.m., Room 103
Presenter: Sandra K. Begay, Indian Energy Program Lead, Sandia National Laboratories
For more than 15 years, Sandra Begay has supported the DOE Office of Indian Energy and created Sandia's Indian Energy Internship Program. Sandra's past interns have made an impact through their STEM careers and continue seeking higher education endeavors. Their research topics will be described along with Sandra's personal story to visioning a rewarding career and planning for an exciting future.
AISES – A Key to Success in My Career at a DOE National Laboratory
Saturday, Sept. 23, 10:30–11:20 a.m., Room 109
Presenter: Sandra One Feather, HR Talent Management Program Specialist, Los Alamos National Laboratory
This session will engage the panelists and audience in a general discussion on utilizing the relationship/partnership with AISES and the resources it offers to help one be successful in their career path. An additional goal is to educate and increase awareness of the audience on the STEM work that is conducted at the DOE national labs, and opportunities for internship and regular employment.
Click here for more information.
Please follow and like us: