Catherine Miranda is the Senator representing Arizona's 27th District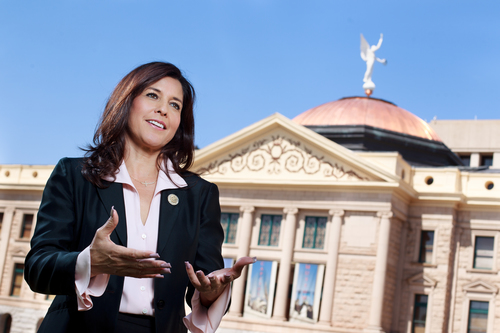 This October, the National Football League, Hispanic Heritage Foundation, and Nationwide, the official sponsor of the NFL, partnered for the seventh annual NFL Hispanic Heritage Leadership Awards.
The awards recognize contributions of Hispanic leaders in each NFL market. Each award recipient was recognized at a game or event in their local NFL market. With support from Nationwide, each recipient will select an organization of their choice that serves the local Hispanic community to receive a $2,000 donation.
Arizona Cardinals Catherine Miranda is the Senator, representing Arizona's 27th District.
A native Arizonan who grew up in the heart of south Phoenix, Miranda explains on her website:
"Sports was my life. There were four girls and one boy in my family. My brother turned me into his 'little brother' so he could have someone to play sports with. I was a 100-percent tomboy."
Miranda was the only girl who played baseball in her little league, where she had a .500 batting average, made it a point to hit a home run in every game, and earned a spot on the all-star team despite fighting an obvious male bias.
As good as Miranda was on the diamond, she was even better on the basketball court. She once scored 34 points in a high school game with college scouts watching. She was even offered a full-ride basketball scholarship to Arizona State University. Miranda credits her sports experience for the development of strong leadership skills.
"I learned when I need to be aggressive," she explains, "and I learned when I should pull back. I discovered and honed my ability to take charge and lead a team."
The Senator's family arrived in Phoenix in the 1940′s. In Phoenix, her mother worked at AiResearch, an Aerospace Technology Company, and her father worked in construction, helping to build Phoenix landmarks such as the Ocotillo Library and the Salvation Army's local flagship facility.
Miranda attended elementary school in the Roosevelt School District, in the heart of the very legislative district that she now represents. She was also a member of the last graduating class from East High School. A proud Longhorn, Miranda participated in student rallies to protest the planned school closure; an effort that may have represented her first serious foray into political activism. Though East High did ultimately shut down, Miranda's interest in education never waned. Following high school graduation, she worked her way up through the ranks of Phoenix Union High School District administration. She began as an attendance clerk at South Mountain High School, became a secretary to the assistant principal and then secretary to the principal.
During the course of her work, she was able to observe many teachers and developed her own vision of the ideal educator. To turn that vision into reality, she attended Arizona State University and earned a teaching degree at age 36.
With a degree in hand, she continued her climb up the educational ladder – classroom teacher to assistant principal to ultimately, Roosevelt School District board member.
Along the way, she earned a master's in educational leadership from Northern Arizona University, and she helped found the Ben and Catherine Miranda Manzana Foundation, which prepares and transitions students for post-secondary education.
Though Catherine was not born into a political family, she is in one now as her late husband was a former Arizona lawmaker Ben Miranda. Catherine is both honored and humbled to have the opportunity to serve her community in the State Senate. Her leadership has been acknowledged both in her community and nationally as she was the former elected Vice President of Policy for the National Hispanic Caucus of State Legislators.
Source: Catherine Miranda for Senate
Please follow and like us: